André Masson
1896 - 1987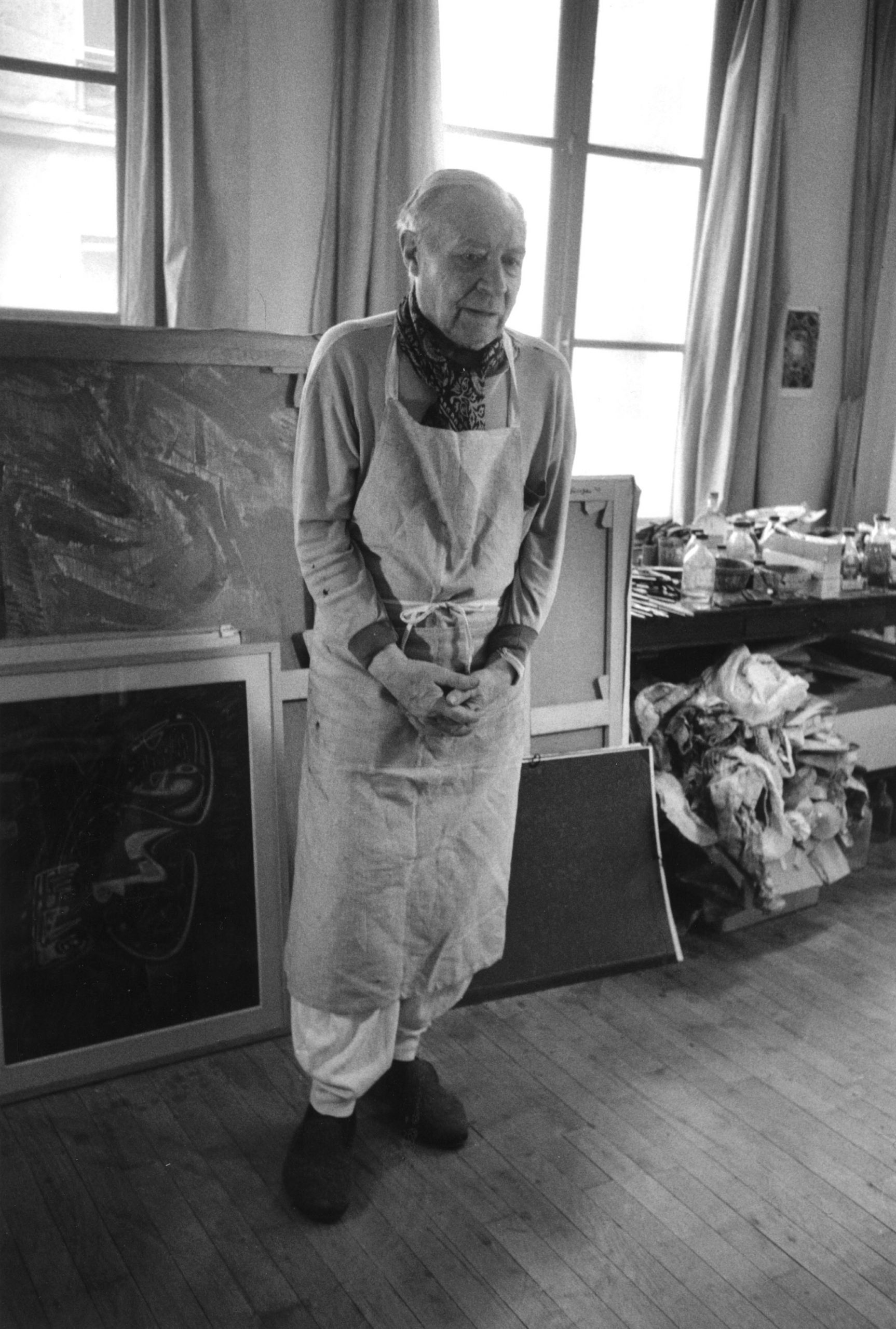 © Ministère de la Culture - Médiathèque de l'architecture et du patrimoine © RMN-Grand Palais / Denise Colomb
Portrait of André Masson by Denise Colomb, 1966
Masson was 43 years old at the outbreak of the Second World War. His work is closely linked to the development of surrealism, which is beyond the scope of this discussion, but further information can be found in specialist and major works about the artist.
At the end of 1941 Masson was in Marseille where, with Breton and his friends, he took part in the creation of a 'Marseille card game' before sailing for New York with his family. In New York he lived in New Preston near to Calder and Tanguy. This was an intense period of creation, and Masson showed in a considerable number of exhibitions before returning to France in October 1945. At the end of that year, he showed in Paris at the Galerie Louise Leiris and the Galerie Simon.
In addition to painting, Masson made frequent illustrations for the works of poets and writers and designed stage sets and costumes. In 1946 he worked on a performance of Hamlet, which was being given at the Théâtre Marigny by the Renaud-Barrault company, and also on Jean-Paul Sartre's Morts sans sépulture. Paul Rosenberg made a first donation of his work to the Musée National d'Art Moderne in Paris. During this period he became interested in the phenomenon of light — the subject of Port de La Rochelle — and painted imaginary subjects. A major exhibition was held at the Palais des Beaux-Arts in Brussels. In 1947 he had exhibitions in New York, London, Paris and The Hague. He made lithographs with Picasso at Mourlot's workshop. Publication of André Masson et son univers by Michel Leiris and Georges Limbour. On 15 October, Masson moved into the Villa l'Harmas at Le Tholonet near Aix-en-Provence, where he worked until 1948 on subjects related to the countryside surrounding Aix.
Masson was interested by impressionism and wrote an article for the review Verve, titled Monet le Fondateur, in which he attempted a new analysis based on the relation between Turner, Monet, Renoir… and Cézanne, as well as studying Chinese painting and calligraphy. In 1948 an exhibition of recent works was held at the Galerie Louise Leiris. In 1949 he made his first etchings in colour, with 33 illustrations for André Malraux's Les conquérants. He travelled in the mountains and painted landscapes and dead birds. An exhibition, which included erotic drawings, was held at the Galerie de la Place Vendôme, under the title Terre érotique, with a text by Bataille. It was rapidly closed down by the authorities. La Monnaie commissioned Masson to design the Malraux medal. In 1950 he painted female nudes and waterfalls, executed pastels and wrote Plaisir de peindre (Nice, La Diane française). A retrospective was held at the Kunsthalle in Basel with Giacometti. In 1951 he visited Venice, returning again in 1954 and 1955. The city remained a source of inspiration for him for several years, with in particular an album of coloured lithographs with a lithographic text, Voyage à Venise, printed at Aix-en-Provence by his friend Léo Marschutz. Other albums resulted from this collaboration: Carnet de croquis, Sur le vif and Toro, for which Michel Leiris wrote a preface. During the Aix period, Masson designed stage sets and costumes for Iphigénie en Tauride (Gluck) for the Aix Festival and executed a painting on the subject of bathers, which included nudes in a landscape (1953), as well as began work on the subjects of Migrations and Féminaires (1955). In 1955 he appeared in Jean Grémillon's film La maison aux images. He wrote an article L'effusionniste for the Nouvelle Revue Française (NRF). He used sand in his painting combined with mixed techniques.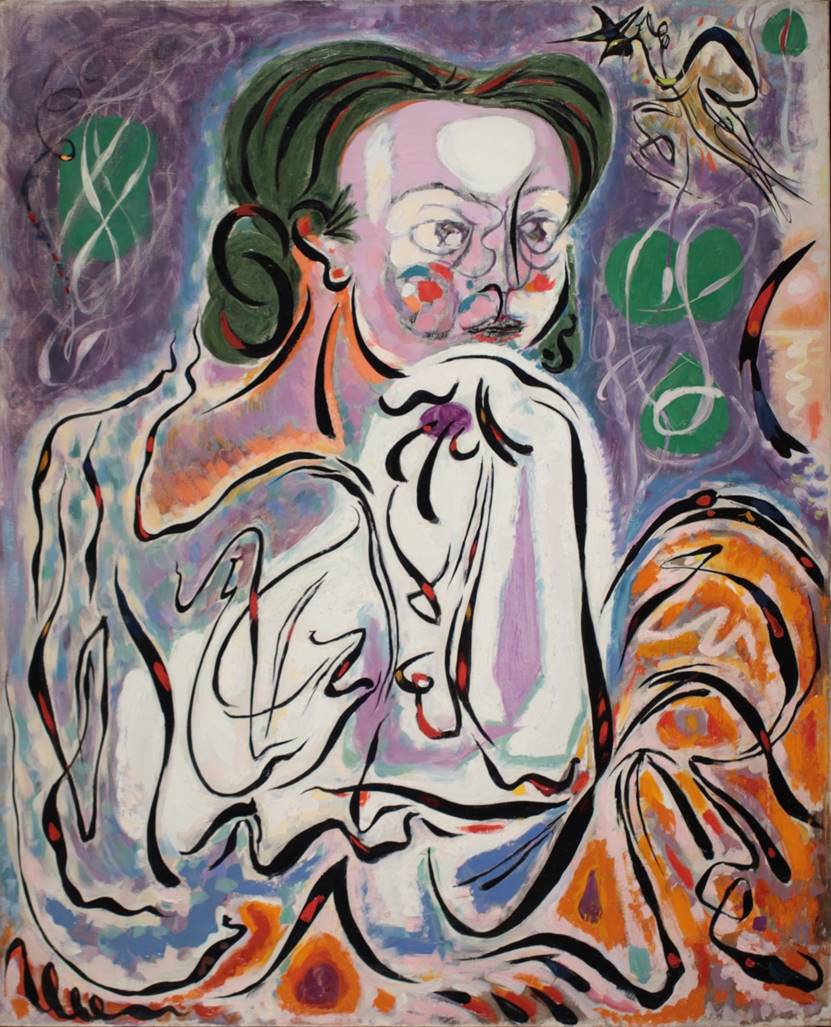 Portrait de Rose Masson, circa 1944
Oil on canvas
69 x 56 cm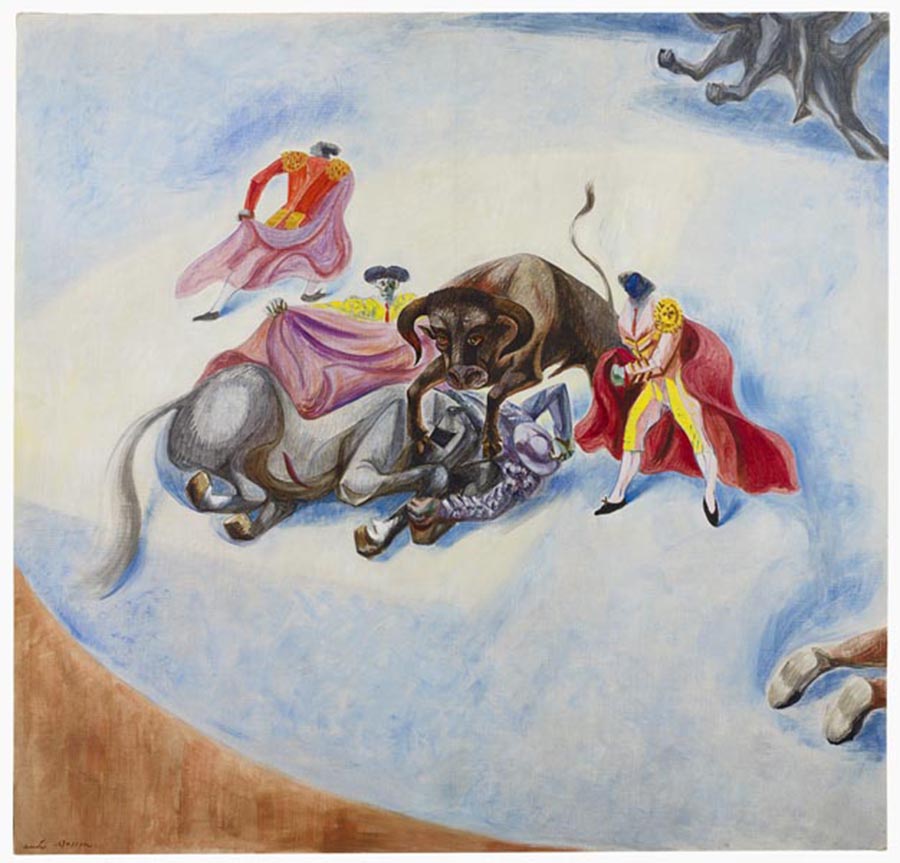 Corrida (Corrida imaginaire), 1936
Oil on canvas
85 x 90 cm
From 1956 onwards Masson began to show in an increasing number of both solo and group exhibitions (ref. catalogue Rétrospective Masson, Paris, 1977). He made Féminaire, an album of prints in colour. He wrote a number of articles, including Le peintre et ses fantasmes for the Revue philosophique, and his book Métamorphose de l'artiste was published by P. Cailler in Geneva. He worked on the series Dévoration, Féminaire de la rue Saint-Denis and La femme multipliée, continued over the next few years, and on Les migrations, 'gestural' sand paintings made in bright colours. Masson made frequent use of tempera until 1962. Exhibition Œuvres récentes et anciennes at the Galerie Louise Leiris in Paris.

In 1957 Jean Grémillon directed a film in Aix on the artist, titled André Masson et les quatre éléments. Georges Charbonnier broadcasted a programme on RTF, Dialogues avec André Masson; this series of interviews was published in 1958 by Julliard. In 1958 the Albertina in Vienna held the first retrospective of Masson's prints. A room was given over to his work at the Venice Biennial, with a text by Eugène Ionesco. He gave a talk at the Collège de philosophie de Paris titled Des nouveaux rapports entre peintre et regardant (Mercure de France, 1958, vol. 334, pp. 193–207). He showed Couple dans la nuit at the Salon de Mai. He continued the Migrations. His work became increasingly abstract with more attention given to space and the gestural sign.
Between 1959 and 1961 the calligraphic signs derived from automatic techniques disappear and are replaced by a less stylised form of expression. In 1959 Masson painted Errance, one of several paintings made by spraying paint onto canvas with an airbrush.
Around this period Masson stopped using sprinkled sand, dripping, spraying, pressing and collages made from untreated elements (this period recalls the early sand paintings of 1927–1928). His main subjects were jubilation and ecstasy and included mythological figures, centaurs, oracles and nymphs. Until 1961, Figures mythiques, Lieux emblématiques and Annales de la nature occupied an important place in his work.
In 1960 a major retrospective of drawings (1922–1960) was held at the Galerie Louise Leiris. Masson was invited to Vienna for a meeting between Artists of the East-Artists of the West. He met Tobey, who was staying in Paris. In 1961 he executed the coloured lithographic illustrations for Mallarmé's Un coup de dés jamais n'abolira le hasard; 22 lithographic drawings titled Sur le thème du désir, with texts by Jean-Paul Sartre and André Masson; Une saison en Enfer by Rimbaud, with prints in colour. He produced a series of paintings on the theme of Prison and, in March, gave a talk at the Pavillon de Marsan titled Propos sur le surréalisme.
From 1962 to 1964 he produced works on the theme of Massacres (a theme already addressed in 1932–1933), which culminated in the period 1963 to 1964 with extremely violent works. The years 1962 to 1963 saw a new move in the direction of figuration. The series of prints Trophées érotiques was published early in 1962. Eros was an increasing presence in his prints from 1960 to 1975. In 1962 he had an exhibition of recent paintings at the Galerie Louise Leiris, Thème des Cérémonies and Figures tutélaires. In 1963 he moved from his apartment at number 65 rue Sainte-Anne, where he had lived since 1958, to rue de Sévigné in the Marais, where he remained until the end of his life. He created the stage sets and costumes for the production of Alban Berg's Wozzeck given at the Paris Opera with Pierre Boulez conducting. In 1965 he painted the ceiling of the Théâtre de l'Odéon and, from 1954 to 1959, participated in l'École de Paris at the Galerie Charpentier.
1965 Rétrospective Musée National d'Art Moderne, Paris. Catalogue, biography written by the artist, text by Jean Cassou.
1972 Masson, période asiatique 1950–1959. Galerie de Seine, Paris. Catalogue, text by Françoise Will-Levaillant. Chronology.
1975 André Masson, oeuvres de 1921 à 1975. Musée Granet, Aix-en-Provence. Catalogue, Chronologie d'André Masson by Georges Duby.
1976 80th birthday retrospective. Museum of Modern Art, New York. Catalogue William Rubin, Carolyn Lanchner, shown in Paris in 1977.
1976 200 dessins. Musée d'Art Moderne de la Ville de Paris. Catalogue.
1977 Hommage à André Masson. Grand Palais Paris. Catalogue, William Rubin, complete biography and bibliography.
1982 André Masson. Exposition pour son 85e anniversaire. Centre Georges Pompidou, Musée National d'Art Moderne, Paris. Catalogue.
Among recent exhibitions:
1983 Masson. Rétrospective, travaux pour la scène. Théâtre du Rond-Point, Paris. Catalogue, text by Michel Leiris.
1983 Masson. Instants 67 œuvres 1948–1953. Galerie Louise Leiris, Paris. Catalogue.
1985 Galerie Jean-Jacques Dutko, Paris. Catalogue.
1986 Galerie Artcurial. Galerie Louise Leiris (catalogues).
1987 Masson. Automatismes. Chapelle de la Sorbonne, Paris. Catalogue, text by Daniel Abadie.
1989 Galerie Jacques Bailly, Paris. Catalogue.
1989–1990 Rétrospective: André Masson, l'insurgé du XXe siècle. Académie de France à Rome. Catalogue.
1990 André Masson, œuvres 1954–1974. Centre culturel d'Issoire. Catalogue.
1991 André Masson, œuvres maîtresses. Galerie Odermatt-Cazeau, Paris Catalogue.
Masson's work is to be found in the collections of many museums in France and abroad.
• J.P. Clébert: Mythologie d'André Masson, 1971.
• André Masson: La mémoire du monde. Skira. Coll. Les sentiers de la création, 1974.
• Françoise Will-Levaillant: André Masson: Anthologie de ses écrits: Le rebelle du surréalisme. Hermann, 1976.
Publication