Otto Wols
1913-1951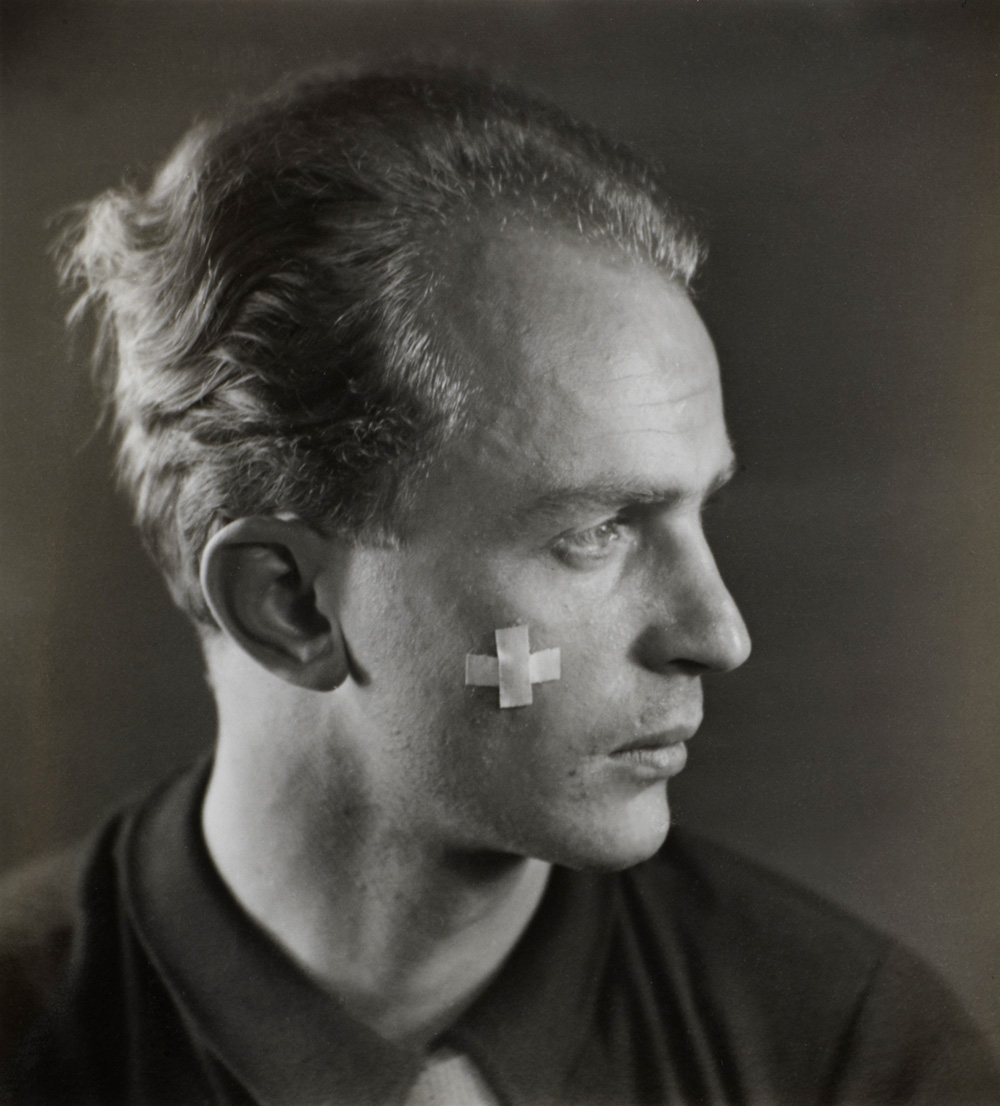 © VG Bild-Kunst, Bonn 2013 (DR)
Otto Wols, self portrait, c. 1932-33
Wols is seen as the originator of Tachisme. Most of his surviving œuvre dates from between 1946 and 1951. In those five short years, he developed an approach that pioneered lyrical abstraction. Prematurely aged by alcohol and poverty, he became a recluse, living in a hotel room with his wife Gréty, inseparable from his pipe and his dog. He dreamt away his days reading Lao Tzu and the Bhagavad-Gita, drawing on scraps of paper while he talked to friends or visitors who stopped by.
Wols came from an upper middle-class Saxon family. He spent most of his childhood in Dresden, where his father worked as a jurist. At the time, the ideas of the Bauhaus, which was based first in Weimar and then in the Saxon city of Dessau, were circulating there. Wols was highly intelligent and multi-talented. He initially focused on music, learning to play the violin and the piano and studying composition, and was offered a job as conductor by the director of Dresden Opera House. He also excelled in mechanical engineering and anthropology. Although he eventually chose art, he remained a gifted amateur musician all his life, playing Bach on a banjo after he lost his violin. He was also a highly gifted photographer: when he arrived in Paris in 1932, a few months after enrolling to study at the Bauhaus in Berlin, he was able to a modest living from his stunningly innovative, imaginative photographs.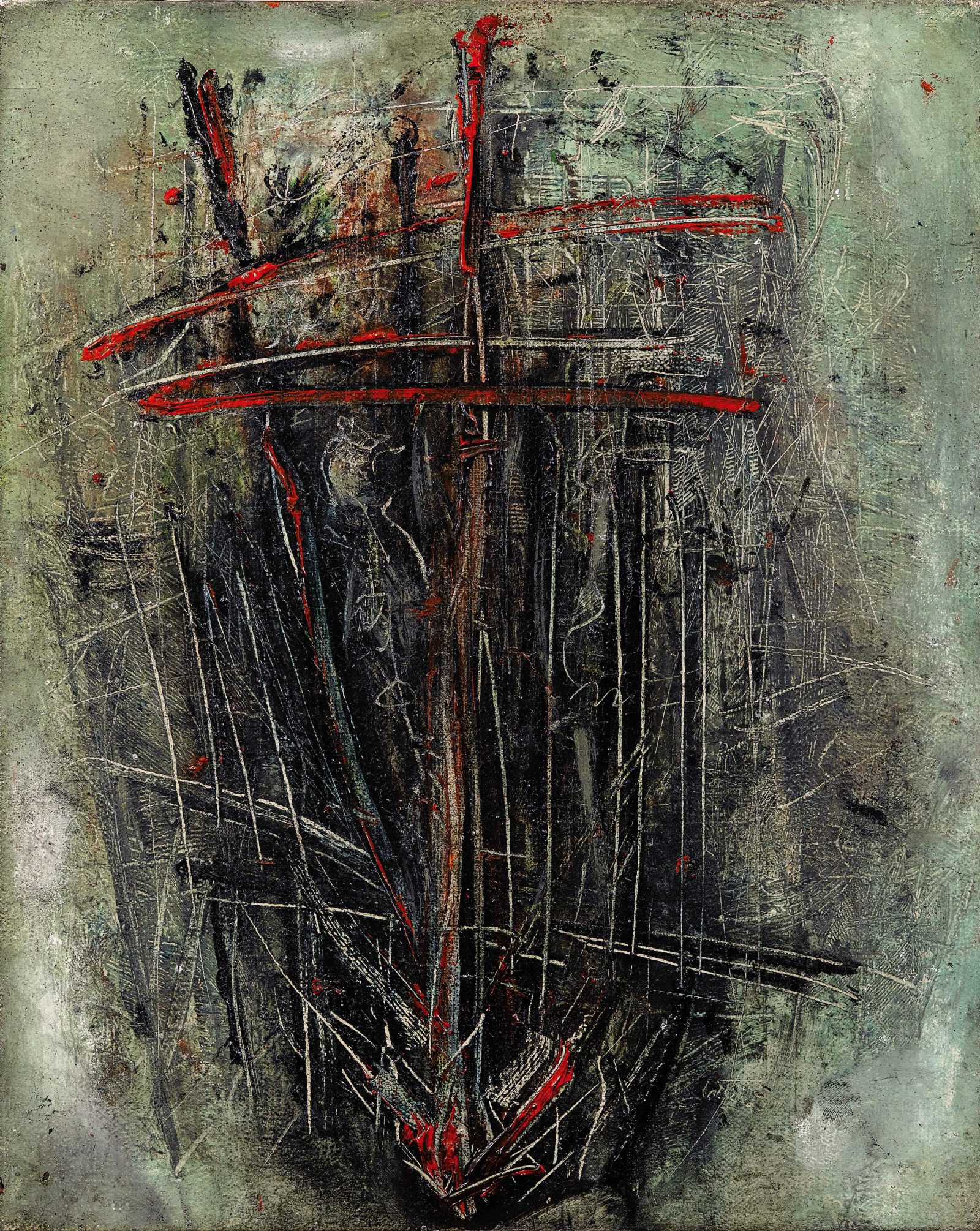 However, painting overshadowed all his other interests. When Moholy-Nagy saw Wols' first drawings, he thought his talent so individual that he advised him not to seek tuition. In Paris, he made the acquaintance of Léger, Arp, Giacometti, Miró, Ernst, Tzara and Calder – and of his future wife, Gréty. It was the start of a hard life for both of them. In the years leading up to 1935, Wols spent time in Spain – in Ibiza, where he earned a living as a photographer and a driver, and in Barcelona, where he was arrested for not having a residency permit. He set off for France, crossing the Pyrenees on foot. All his artworks from this period have disappeared. After returning to Paris, he found work as the photographer of the Pavillon de l'Élégance at the International Exposition. His photographs were so impressive that the Galerie de la Pléiade held an exhibition of them. He exhibited under the name "Wols", a contraction he continued to use from then on.
Wols now began to produce light, delicate drawings of improvised structures featuring imaginary plants which presently evolved into "flowers of evil", according to Werner Haftman, one of a number of commentators on Wols' work. When war broke out, as a German, Wols was interned. So began an unsettled existence, as he was transferred from one camp to another – Vierzon, Montargis, Nîmes and the Camp des Mille in Aix-en-Provence. He took refuge in alcohol. Degeneration and hardship matured him: his drawings and gouaches from this period record his vision of a world of concentration camps. They seem like a private journal – Wols' diary of his experiences. Initially, he produced them so as to forget – "The first thing I banish from my life is memory." Later, he would say of his frenzy for drawing: "You use scraps of paper to tell your little earthly tales." In 1940, he was released, and he and Gréty moved to Cassis. They had no means of subsistence, but Wols worked joyfully, drawing colourful "psychic improvisations" featuring little "pastilles" of watercolour. His poetic imagination was nurtured by Novalis, Poe, Lautréamont, Baudelaire, Artaud, Shelley, Kafka, Faulkner, Morgenstern and Rimbaud. Wols' watercolours are peopled by "dream boats" that sail through cities inhabited by monsters, recalling the images in Rimbaud's poem Le bateau ivre. Wols' gouaches from this period hover between Surrealism and Expressionism, like Klee's.
In 1942, fear of the Germans prompted Wols to move to Dieulefit, in the Drôme area, where he stayed until 1945. There, he made the acquaintance of the writer and collector Henri-Pierre Roché, whose novel Jules et Jim was to become a posthumous success as a result of Truffaut's film. Roché bought fifty of Wols' gouaches in the space of three years, and asked René Drouin to come to Dieulefit to see his pictures.
Drouin was bowled over by them, and succeeded in overcoming Wols' reluctance to exhibit. In May 1947, Drouin's gallery held an exhibition of his work. In his introduction to the exhibition, "Extraits de notes sur Wols", Henri-Pierre Roché writes: "What does Wols do? He lowers himself like a diver into his own depths, where his hand scrabbles at everything he sees: cobwebs, grasses, forests of seaweed, watches, molluscs, cities that are simultaneously rollercoasters, boats that are also houses, islands, butcher's-cum-jeweller's shops, attractions, chasms and concentrations of terror. All these things and many more. He ordains these visions in a crisis. I am grateful to him for taking these plunges into the depths and showing us what he has fished up."
Mathieu went to the exhibition and was overwhelmed by the pictures. He later wrote: "Each of them is more shattering, more heart-rending, bloodier than the next: [they are] a considerable event, probably the most important since the works of Van Gogh. The most lucid, evident, moving cry, expressing the tragedy of a man and of all men … Wols has blown everything to smithereens … He has annihilated not only Picasso, Kandinsky, Klee and Kirchner, surpassing them in newness, violence and refinement … Wols has turned a page: with this exhibition, the last phase of the formal development of Western painting announced for seventy years, since the Renaissance, for ten centuries, comes to an end."
(Au-delà du tachisme, Julliard, 1963, reprinted in De la révolte à la renaissance, Idées Gallimard, 1972)
Wols travelled to Paris for the exhibition and remained there. He spent the last period of his life in hotels on the Left Bank, constantly drawing in small school exercise-books.
His work underwent a profound change in January 1946, when René Drouin provided him with tubes of oil-paint and canvas. As he began to paint in oils, he abandoned anecdotes and dream images in favour of a formless universe unlike anything that had ever been seen – a brutal universe that swept away everything in its passage. The work he sent to the 1947 Salon des Réalités Nouvelles offered a foretaste of the Galerie Drouin exhibition in May. The forty pictures in the exhibition seemed to represent the consummation of his approach. In the book about Wols by René Guill that Drouin published to accompany the exhibition, the author writes: "In front of all his recent pictures, we experience the same difficulty: the impossibility of naming. In relation to what we know of the outside world, there is nothing that can be identified with any certainty. Does that mean that these pictures represent nothing? On the contrary: we see manifold forms battle and merge with each other. The picture is constantly multiplying, and ultimately, what we observe is an inexhaustible figuration."
Wols continued to develop and add to his oeuvre right up to his death. He established a new concept of spatiality in which Being projects itself in the cosmos. In "Wols", Cimaise October-November 1958, Michel Ragon wrote:
"For Sartre and Simone de Beauvoir, Wols, whose work still neighboured that of Klee and Max Ernst, offered a visual translation of the spontaneous germination of the sense of the absurd in an individual consciousness. But Wols' original personality settled somewhere beyond those self-evident initial observations, beyond the primary sense of the absurd. In this, his vision of the absurd differs profoundly from Kafka's … he always takes care that the transcendent aspects that are essential to poetry are preserved in his creative oeuvre. As a result, in Wols, the possibility of a triumphant cry, an act of love and universal communion very closely related to Chinese mysticism, is always maintained."
In Wols en personne (Situation IV), Gallimard, Jean-Paul Sartre analyses Wols' creative output as follows: "He became disgusted with his own vision … Before, he used everyday objects to build his traps, to suggest what cannot be grasped, as if going beyond their contradictions; after 1940, being appears first, conjured up by other means, and suggests them by allusion. Everything is the other way round: being, which was the other side of Man, allows itself to be divined; now it is Man that is the other side of being."
Wols did not abandon either watercolour or drawing. In 1947, he produced etchings to illustrate the works of his friends Sartre (Visages, 1948 and Nourritures, 1949), Paulhan (Le Berger d'Ecosse, 1948), René de Solier (Naturelles, 1948), Antonin Artaud (Le théâtre de Séraphin, undated) and Bryen (Baleine ville, 1949), and a volume of four Kafka stories entitled L'Invité des morts (1948) after the title story, A Guest among the Dead.
He exhibited work in the Il Milione gallery in Milan in 1949 and in the Hugo Gallery in New York in 1950, but he was losing strength as a result of the combination of drink, poverty and huge nervous strain. Notwithstanding his friendships with Sartre, Mathieu and Bryen, all of whom greatly admired him, Wols remained solitary, going out at night, when he was not working, to contemplate building facades. Following detoxification treatment, he regained his interest in life, began working and moved to Champigny, intending to lead a calmer life. But this new tranquillity was curtailed. On 1 September 1951, he died in the Hôtel Montalembert as a consequence of food poisoning. There is still some mystery surrounding the precise circumstances of his death.
He remains a determining influence. Alongside Bryen, to whom his work was a revelation, Mathieu and Hartung, he waged war on the prevailing influence of geometry in 1947-1948, playing a vital role in the "antigeometric offensive", to borrow Mathieu's term. Mathieu included him in his exhibitions, which are now seen as historic. The lyrical abstraction movement was launched in 1947, with the exhibition "L'imaginaire" in the Galerie du Luxembourg, accompanied by a text by J. J. Marchand. In 1948, it was consolidated by another exhibition masterminded by Mathieu, entitled "H.W.P.S.M.T.B." (Hartung, Wols, Picabia, Stahly, Mathieu, Tapié, Bryen), with texts by each of the participants except for Hartung and Stahly, this time in the Galerie Colette Allendy, and by a group exhibition by Hartung, Wols, Arp, Tapié, Picabia and Ubac entitled "White and Black", with texts by Edouard Jaguer and Michel Tapié, in the Galerie des Deux Isles in July of the same year. The last event Wols took part in, a group exhibition by Bryen, Capogrossi, de Kooning, Hartung, Pollock, Riopelle, Russell, Wols and Mathieu entitled "Véhémences confrontées" in Nina Dausset's gallery in March 1951, marked a new direction in lyrical abstraction.
Wols developed a miniaturized informal art that unfolds to create dizzying labyrinths, based on an acute, sophisticated form of automatic drawing that caused him fleetingly to be associated with Surrealism.
Wols was the quintessential tortured artist. His oeuvre cannot be separated from his life, which he constantly jeopardized by taking calculated, deliberate risks. Death is everywhere in his work, as are rips that reveal spreading, cobweb-like networks dominated by Chinese mysticism, which had a profound and lasting influence on him.
His posthumous reputation is huge.
Retrospective at the Biennale de Venise in 1958. Preface by V. Apollonio.
1958 Wols. Galerie Claude Bernard Paris, Catalogue « Souvenirs sur Wols » by Henri-Pierre Roché.
1973 Retrospective National Galerie of Berlin and Musée d'Art moderne de la Ville de Paris. Catalogue, preface by Jacques Lassaigne.
Museums : Paris (Musée national d'Art Moderne) – Cologne – Hambourg – Münich – Münster – Stuttgart – Zürich
Marcel Lecomte : « Souvenirs sur Wols » Quadrum 1959,
Werner Haftmann : « Wols, sa vie et l'œuvre » « En personne. Aquarelles et dessins ». Ed. Delpire Paris 1963.